Types of Braces
Metal braces used to be known for being clunky and uncomfortable. Fortunately, today's conventional orthodontic options offer a sleeker design that will not irritate your gums or mouth—and they can even help you get the smile of your dreams! To learn more about how these modern-day miracles work, contact our team to request your complimentary consultation!
Traditional Metal Braces
At Trinity Orthodontics, we offer an excellent choice for patients who prefer conventional braces to straighten their smiles:
Metal braces use metal brackets, and patients can choose the color of elastics they would like to surround each bracket. These are changed out during in-person appointments.
Taking Care Of Metal Braces
At-home hygiene is key in caring for your smile while wearing metal braces. By having a good oral hygiene routine, you can help avoid the risk of tooth decay or other oral problems. Sticky foods should be avoided because they can get stuck in the brackets, causing damage and making brushing difficult. When eating crunchy foods, it's recommended to first cut the foods into smaller pieces and use the back molars when eating. If you choose metal braces for your orthodontic treatment, our team can provide the best recommendations for caring for your braces.
Metal Braces Vs. Invisalign Treatment
When deciding between metal braces and clear aligners, the choice depends on both your straightening needs and your preference for treatment. A consultation with our team is the best first step in the orthodontic process. Our team can take a look at your smile, answer any questions you may have, and recommend the best option depending on your orthodontic needs.
Precision Bracket Placement
Thanks to Dr. Nelson, our office is able to offer a process that he has developed called Precision Bracket Placement, or PBP. PBP determines the best placement for brackets by using a model of the teeth prior to treatment. This model is used as a guide to help our team know exactly where to place the brackets for more precise treatment and faster treatment times.
Benefits Of Precision Bracket Placement
Get more for your money with PBP. Although these braces require technically difficult lab procedures, our pricing for PBP treatment is comparable to traditional braces. PBP offers a more comfortable, more accurate, and significantly shorter treatment option. This process offers benefits, including:
Use of diagnostic models for accurate bracket placement.
Brackets embedded into a custom, fabricated tray allows all-at-once bonding and improved accuracy in initial bracket placement.
Reduced time in the chair, as well as less discomfort, compared to direct-bonded brackets.
More precise tooth movement; fewer adjustments needed.
Less treatment time compared to traditional braces: typically between 14 and 18 months.
A shorter treatment time means a lower risk of tooth decay.
Very rarely need to remove any permanent teeth.
Great results—guaranteed!
Advanced Technology For Your Straightening Needs
At Trinity Orthodontics, we want you to have the best experience with advanced technology that is designed to make your treatment easier with faster results. Contact our team to learn more about our orthodontic treatment options and how advanced technology can help you achieve a straighter smile quickly and effectively. Requesting a consultation with our team can help you take the first step toward a straighter smile!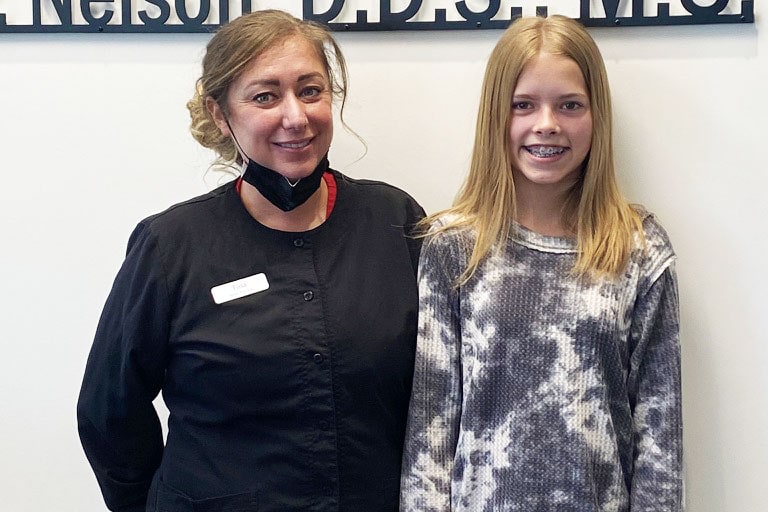 Braces for Kids
When Should My Child First See An Orthodontist?
Dr. Nelson, our board-certified orthodontist, recommends that children visit an orthodontist no later than age seven. He will be able to evaluate your child's oral development and growth at this age to decide if braces are necessary. Children's jaws and teeth are more adaptable, so it's best to determine if orthodontic treatment is needed early on. This will make treatment easier and more comfortable for your child.
Early intervention can be advantageous in many situations. Braces for kids in Colorado can help address crossbites and alignment concerns before they become more difficult to treat in the future. After the age of seven, children should see an orthodontist periodically to check on their development and make sure no orthodontic problems have emerged. This will allow for the earliest possible diagnosis and treatment if any issues arise. Contact us today to set up a complimentary consultation for your child with our top-rated Colorado orthodontist.
Early Signs Orthodontic Treatment May Be Needed
In children, some of the most frequent indicators of orthodontic problems are:
Difficulty chewing food
Crooked or overlapping teeth
Premature or delayed loss of baby teeth
Problems with jaw alignment
Problems with speech, such as lisping
Thumb-sucking and mouth breathing are also two behaviors that might be indicators of orthodontic problems. Please contact us immediately if your child exhibits any of the above symptoms.
However, the best way to decide if braces are right for your child is to set up a complimentary consultation with Dr. Nelson. He can examine your child's teeth, dental history, and X-rays to see if orthodontic treatment in Colorado is necessary.
How Braces Can Benefit Your Child
Braces for children can give several advantages other than merely enhancing the look of their smile. By guiding their oral development more effectively, your child can avoid problems in the future thanks to orthodontic treatment. In addition, children who are self-conscious about showing their smiles could gain the self-assurance they need by preventing and correcting abnormalities early on. Furthermore, braces lower the risk of harm caused by protruding teeth and make it less likely that more serious dental conditions could develop as a result of poor habits at a young age.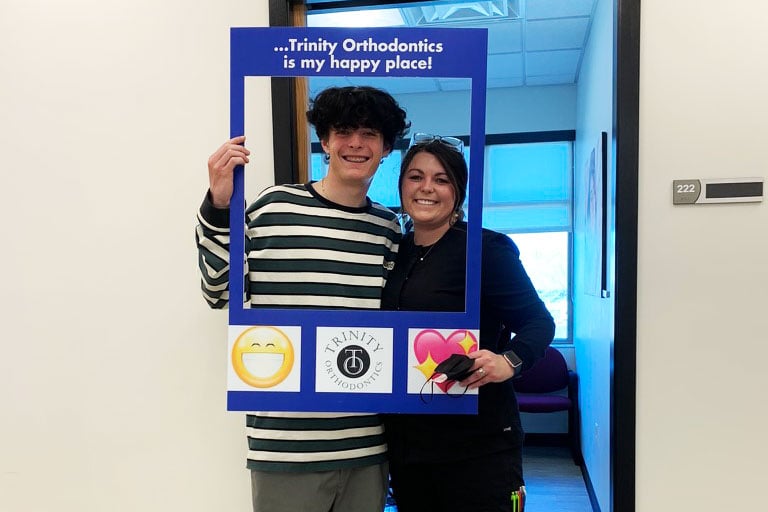 Braces for Teens
Boost Your Confidence With Braces For Teens
Teens who get braces often report an increase in both self-esteem as well as better dental health. Overcrowding and crookedness are just two of the many issues that can arise as a child's permanent teeth begin to come in, making it harder for them to practice good oral hygiene. In addition to helping teenagers maintain better dental hygiene, orthodontic treatment can also correct concerns with spacing and bite. Trinity Orthodontics offers individualized treatment plans for each patient to get the best possible outcomes.
Getting braces is a big deal, and Trinity Orthodontics wants to help you make the best decision for your child. Our expert team takes great satisfaction in serving our young patients and is committed to assisting them in obtaining the healthy, beautiful smiles they deserve. Trinity Orthodontics offers complimentary consultations for teens in need of braces in Colorado.
What You Need To Know About Life With Braces
In most ways, life after getting braces is similar to life before. Some adjustments to your routine are necessary when you get braces, such as avoiding foods that might potentially harm the appliances or increasing the amount of time spent cleaning afterward. However, with appropriate care and instruction, teens can enjoy a nutritious diet while wearing braces. In order to avoid cavities and gum disease, children should also take special care to brush and floss their teeth regularly. Children can achieve a lifetime of smiles with the aid of Trinity Orthodontics. To find out if braces are a good fit for your teen, request a complimentary consultation with us today!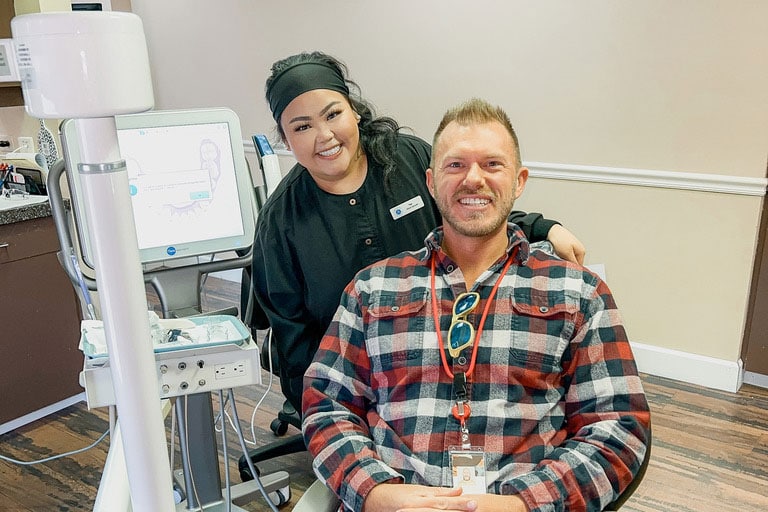 Braces for Adults
5 Myths About Braces For Adults
#1: Braces Are Just for Kids
For most people, when they think of braces, they picture children with braces. But braces are made for patients of any age! Not to mention, there are more effective and comfortable options available than there used to be. Orthodontics has gained more efficient methods and techniques for braces that have allowed them to remain one of the most popular orthodontic treatment options for kids, teens, and adults.
#2: Traditional Metal braces Aren't In Style
Bulky, uncomfortable brackets are a thing of the past! Thanks to advancements in bracket technology, today's braces are lighter, smoother, and more effective than ever. 
Additionally, Dr. Nelson uses a technique called Precision Bracket Placement which ensures your braces are placed in the most ideal location on each tooth. Using a model of your smile, we pre-plan where each bracket will be bonded and then place the full set of brackets at once. This means less time in the chair and guaranteed better results!
#3: I Can't Have Snacks
While there are a few foods you shouldn't have while wearing braces, there are still plenty of tasty treats you can enjoy. You should avoid any hard candy, popcorn, sticky foods, and extra crunchy snacks. The main reason is that these types of foods can damage your brackets or get stuck in the appliances. The good news is that there are still a lot of options still available, such as ice cream, chocolate, yogurt, smoothies, and more. And remember, it's only temporary!
#4: It's Too Expensive
Braces vary in price based on several factors, such as the severity of your case, the length of time the appliance has to be worn, and more. However, our team at Trinity Orthodontics works to make braces affordable for you. We offer complimentary consultations so you can decide if braces are right for you without having to commit or invest any money into it yet. Further, we can help you decide on a payment plan and work with you to work within your budget.
#5: Braces Are Only for Looks
The benefits of braces go far beyond looks. Braces also have a huge impact on your oral health and the function of the jaw and mouth. Braces can better a patient's ability to bite, speak, and eat by realigning their teeth and straightening their bite. Plus, the sooner you get braces, the less likely you are to develop problems with your oral health in the future.
Braces FAQ