TMJ/TMD Treatment
Jaw pain that is caused by TMJ can worsen with time and become extremely uncomfortable and painful. At Trinity Orthodontics, we offer a variety of TMJ treatment options that are non-invasive as well as affordable. Whether you are dealing with jaw pain on a daily basis or during times of stress, our experienced team can help determine the best ways to relieve your pain and treat your symptoms. If you or someone in your family are experiencing symptoms of TMJ, contact our team to request a consultation today!
What Is TMJ?
TMJ stands for temporomandibular joint, which is the joint that connects the top of the jaw to the skull. TMJ and TMD are used interchangeably to refer to temporomandibular joint disorder, which is when a patient clenches their jaw and puts a lot of pressure on these joints, or an injury to the TMJ has occurred. Over time, tight clenching or TMJ injuries can cause a wide range of symptoms, and patients may experience the effects of TMJ occasionally or daily. If you suffer from TMJ, even only during times of stress or anxiety, we recommend seeking treatment to relieve your symptoms and prevent permanent or further damage from occurring.
What Are The Symptoms Of TMJ?
There are no standardized tests that can be performed to determine if a patient has TMJ. However, many patients who suffer from TMJ usually experience jaw stiffness, soreness, and pain in and around the jaw. From your symptoms, our team can help determine the best treatment to relieve pain and discomfort. Common TMJ symptoms include:
Persistent pain in the jaw, face, or ears
Jaw clicking or popping
Difficulty chewing
Frequent headaches
Difficulty or inability to open mouth
How Is TMJ Treated?
Fortunately, there are some great treatments that can be used to relieve TMJ. Invisalign is Dr. Nelson's go-to treatment for relieving and addressing the symptoms and side effects of TMJ! Dr. Nelson has successfully treated many TMJ cases with the use of Invisalign. Outside of Invisalign, other treatment options include physical therapy exercises and custom oral appliances. Our team will recommend the best type of treatment depending on your individual needs.
In Good Hands With Our Experienced Team
Dr. Nelson received his diplomat status in TMJ from the American Academy of Craniofacial Pain in 2014, and he is one of the few orthodontists in the Denver metro area who is highly qualified to treat TMJ. Being in the best care when you are in pain can make a world of difference.
Getting Relief From TMJ
If you are experiencing severe pain from TMJ, this can interrupt your daily routine and make going to work difficult. Headaches and other side effects can keep you from being able to keep up with your normal activities. If you are dealing with symptoms of TMJ in Thornton, CO, call our team today to schedule a consultation. After examining your jaw alignment and going over your symptoms, we can recommend the best treatment for relieving your pain and discomfort. Don't live with consistent jaw pain – contact our team today to take the first step toward relief from your symptoms!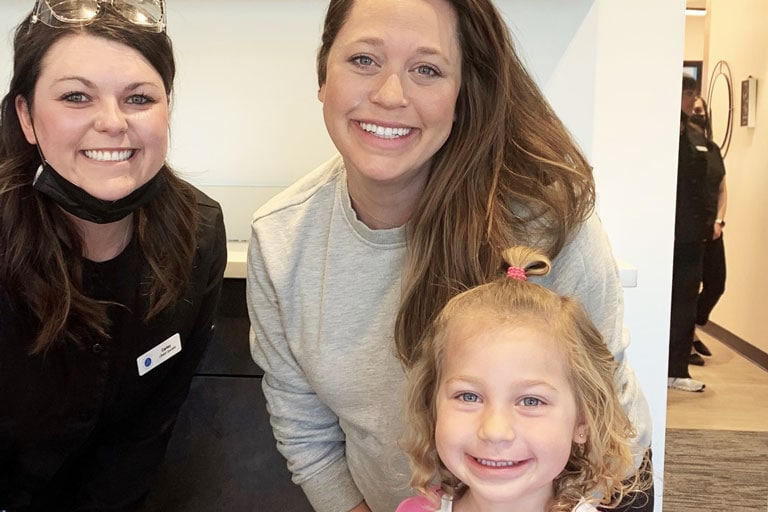 Two-Phase Treatment
At Trinity Orthodontics we are having great success treating young kids with an interceptive phase of treatment using Invisalign.
In the past, Dr. Nelson was not a proponent of doing early-phase treatment. The risk to the health of the teeth during the time it took to use bulky, uncomfortable appliances and traditional braces didn't seem worth the small improvements made. However, with advances in Invisalign technology and my expertise in using aligners with attachments, we are now able to treat kids very effectively in under a year and just 5 appointments. In fact, we are treating Invisalign's youngest patient at age 5! Kids love the comfort of Invisalign, and we find them to be very compliant in wearing the aligners. Parents love how easy the treatment is and the amazing results.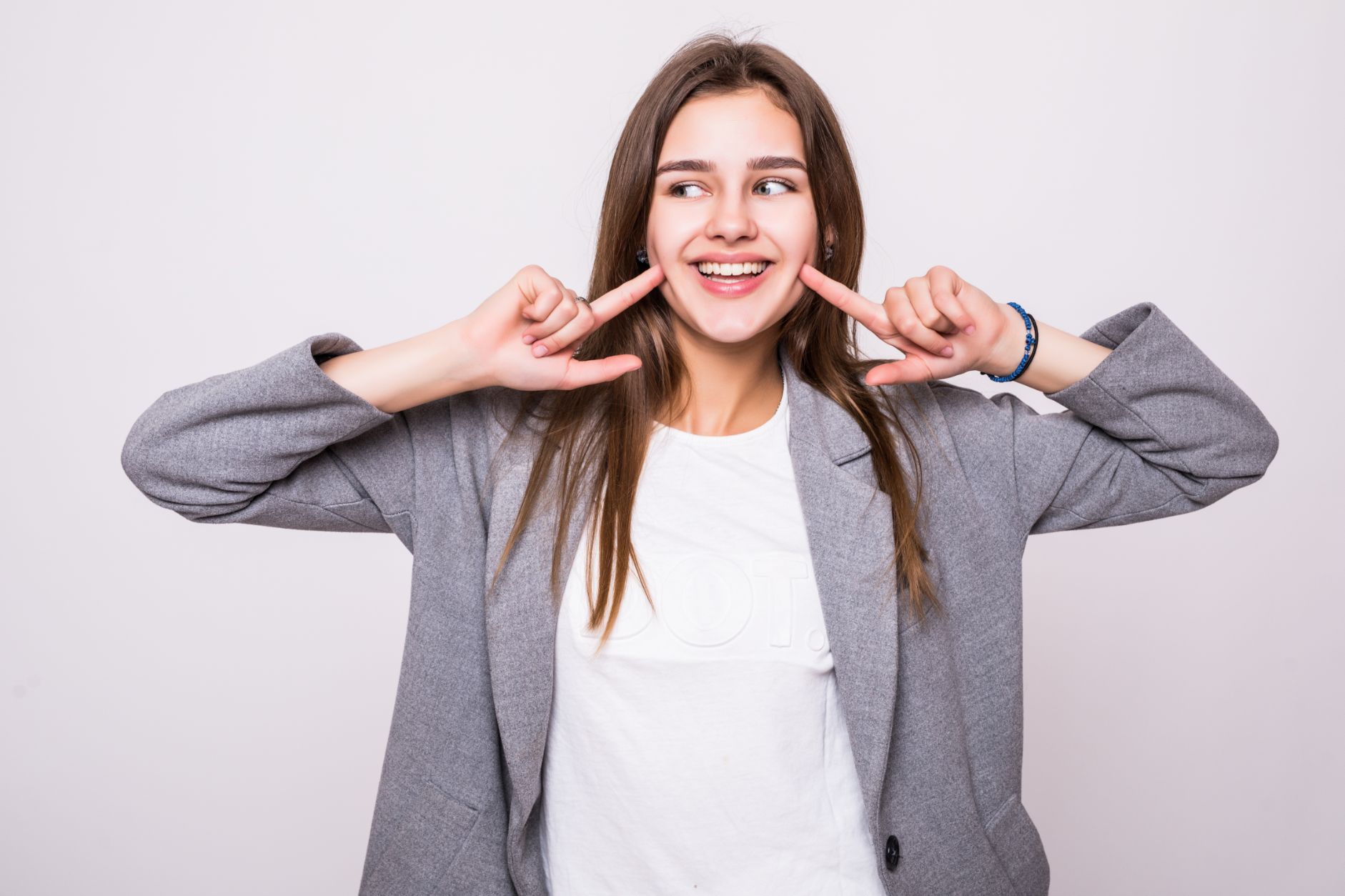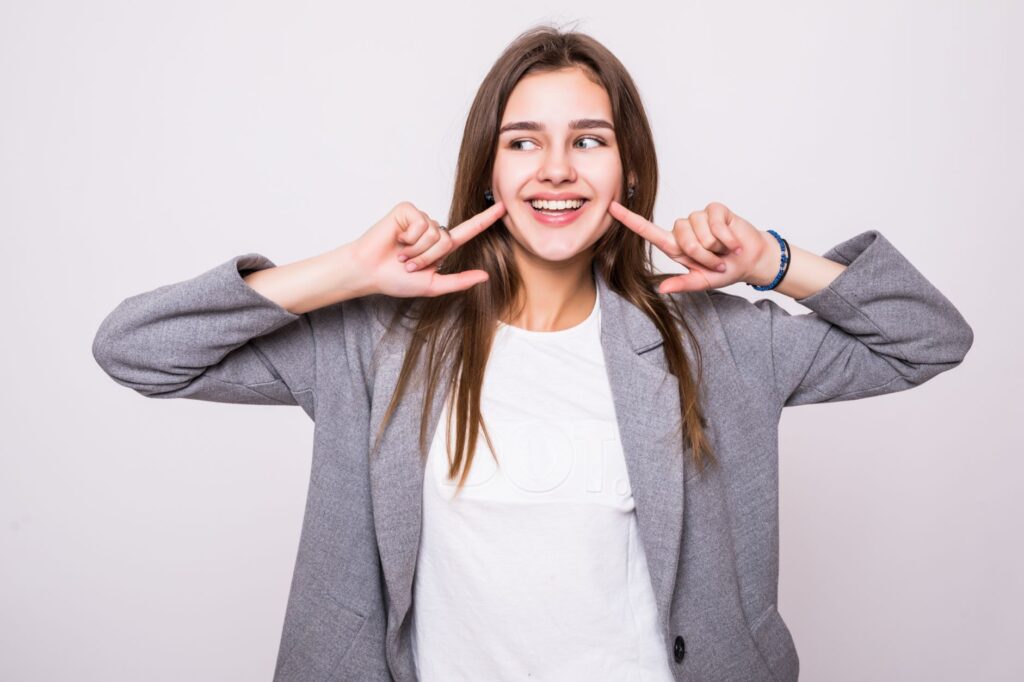 Zoom! Whitening
Phillips Zoom Professional Teeth Whitening is the leading prescription whitening treatment available. Once you've completed your orthodontic treatment, treat yourself to a bright, brilliant smile to show off your investment.
Patients have the option to purchase Zoom Whitening as part of their orthodontic treatment for $349 and receive each follow-up treatment for $100 off for a full year!
The Whitening Process
Once your teeth are prepped, your lips and gums will be protected with a desensitizing cover, and the Zoom Whitening treatment will begin. First, a unique, FDA-approved hydrogen-peroxide gel is applied directly to the surface of your teeth, which helps to loosen and break down any surface stains. Then a high-tech blue-LED light is used to activate the gel and supercharge its effects. This light works by releasing energy onto molecules in the gel, causing them to break down into smaller molecules that can penetrate even deeper into the discolored tooth enamel.
The entire treatment process only takes about 45 minutes. Once the treatment is finished, you can already expect to see a noticeable improvement in your tooth color and brightness after just one treatment! Additionally, the treatment is safe and pain-free; however, some patients may experience slight tooth sensitivity for a few days following their visit. But don't worry—our team will provide you with detailed instructions on how to care for your teeth after the whitening process and how to best prep your teeth before any future follow-up treatments.
Mouthguard Program
More info about are Mouthguard program coming soon!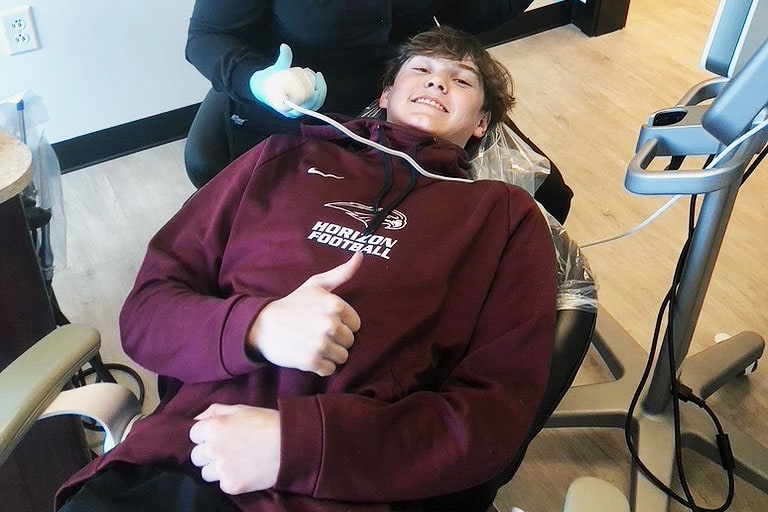 Retainer Program
Vivera Insurance Plan (VIP)
Congratulations! You've now completed treatment and are ready to enjoy your beautiful new smile. The next phase of your journey involves your retainer and is crucial to ensure that your new smile will retain its perfect alignment.
Your new smile will stay beautiful as long as you consistently wear your retainers according to Dr. Nelson's recommendations. We guarantee that if you do your part, we'll do ours, which is why we created the VIP Retainer Program.
How It Works
At Trinity Orthodontics, we want to help you protect your investment, as well as save you time and money!
The length of our VIP program is 5 years to ensure that your smile retains its proper positioning, and after that time, you can choose to renew for an additional 5 years. The cost of the program is $699 and we offer options for payment plans. As a part of our VIP program, patients can purchase unlimited Vivera retainers at only $49 each! Patients will also receive one set of Vivera retainers for free for signing up.
For more information, or to sign up for our VIP program, contact our team today!