Your First Visit
Ready to fix your crooked teeth and straighten your smile? Start with a complimentary orthodontic consultation with our friendly, experienced team at Trinity Orthodontics. At this visit, you'll receive an extensive examination and diagnosis for potential treatment. We will also take this time to review your treatment plan in detail and answer any questions you may have, so you feel confident about your treatment moving forward. Once a course of action is determined, we will also take X-rays, photographs, and impressions to help aid in starting your treatment.
Our team is more than happy to answer any questions you may have, and we will provide all the information you need to determine which treatment is right for you!
Virtual Appointments (F.A.S.T.)
At Trinity Orthodontics, we want our services to be both convenient and effective. We understand that it's not always easy to take time off from work, schedule appointments before or after school, or find appointment times that will work for your child's schedule as well as your own. That is why we have created the F.A.S.T. System, which stands for "Fewer Appointments, Straight Teeth." By minimizing the number of appointments that require visiting our office in person, patients are able to save a lot of time and money!
When Can I Schedule F.A.S.T. Appointments?
Virtual appointments are very convenient, but there are times when patients will have to visit our office in person. If digital impressions need to be taken, adjustments need to be made, or if a bracket breaks and must be fixed, we will work with you to schedule an appointment that works with your schedule. Virtual appointments are an excellent option when patients have a few questions or concerns for our team and need expert advice quickly.
For our patients of all ages in treatment with aligners, F.A.S.T. appointments are a major benefit of this treatment process. You are already changing out your aligners on your own as prescribed, so check-in appointments with Dr. Nelson are now much more convenient! Simply send in photos of your progress and our team can compare your progress to the digital scans of your smile.
How Do Virtual Appointments Work?
Virtual appointments can take place over email, Skype, FaceTime, or text message. If you need another way to contact our office, let us know, and we will help you find a convenient way for you to communicate with us. If your visit is completed through text or email, we may ask that you send a few pictures so we can understand exactly what's going on. You may also send us a video, or we can assess your smile live over Skype or FaceTime. The angles that we frequently need to see are as follows:
Front view, smiling
Front view, lips together, straight face
Side profile, straight face
Pull cheeks away from teeth and bite down, making sure back molars are visible
Right side of teeth, pull lips and cheeks out and back while biting down
Left side of teeth, pull lips and cheeks out and back while biting down
Picture of top arch
Picture of bottom arch
Patient Forms
Before your first appointment, please take a moment to fill out our new digital patient forms here. We look forward to seeing you!
Financial Information
At Trinity Orthodontics, our patients receive exceptional, convenient treatment that is affordable and results in beautiful smiles. The goal is to make financing as easy as possible, so if you have any questions or concerns about costs associated with treatment, please contact us.
Acceptable Payment Methods
We want our services to be as budget-friendly and accessible to as many patients as possible, which is why we accept several forms of payment. Our payment options include:
Cash
Debit & Credit Cards
FSAs & HSAs
Dental Insurance
CareCredit®
In-House Financing
Lending Point
Trinity Orthodontics is an insurance-friendly office, and we accept all major dental insurance providers. Our knowledgeable front office team would be happy to file, track, and update your insurance claims on your family's behalf. We help patients utilize their dental insurance benefits to pay for orthodontic treatment. We always work to maximize patients' benefits and minimize their out-of-pocket spending as much as possible. If you would like to learn more about your specific coverage, please call our friendly front-office team.
Flexible Financing
Our office accepts third-party financing through CareCredit, often with no down payment! CareCredit works similarly to a credit card that is used solely for dental and health-related expenses. Upfront costs can be divided into 6, 12, 18, and 24-month payment plans that accrue no interest when payments are made on time. We also offer interest-free in-house financing to our patients. Flexible financing options can help you receive the care you need in a timely manner.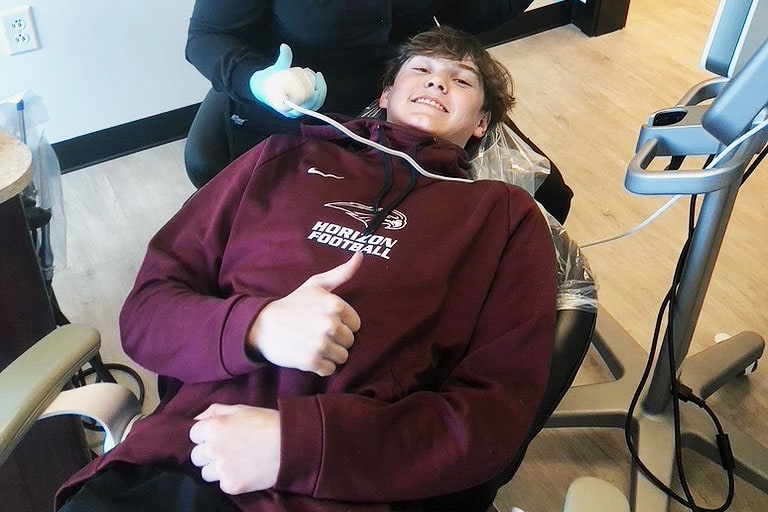 How To Choose An Orthodontist
Dentist vs. Orthodontist
First things first, are you looking for a dentist or an orthodontist?
A dentist is a healthcare professional that deals in the care and maintenance of your teeth and mouth. This may include services such as fillings, root canals, cleanings, crowns, bridges, and more. In essence, a dentist cares through preventative and restorative treatments for your teeth and ensures your smile stays healthy. However, if you are looking to correct anything about your teeth, a dentist will recommend you see an orthodontist.
An orthodontist is a healthcare professional focusing on correcting misalignments and issues with the teeth and jaws. You may visit an orthodontist if you have overcrowding, misaligned teeth, or a misaligned bite. They can also provide you with TMJ (temporomandibular joint) related problems as this deals with the jaw. Furthermore, an orthodontist undergoes more training than an orthodontist.
Therefore, if you are looking to protect your teeth and have them cleaned and cared for, you are looking for a dentist; but if you are looking to have your teeth or jaw corrected, you are looking for an orthodontist.
Doctor Education
When deciding on an orthodontist for you or your family, education is an important factor to consider. An orthodontist, as mentioned above, must undergo more schooling than a dentist. To be more specific, they must receive a doctorate degree in dentistry and then go on to receive three years of training in orthodontics. After this, they must be licensed, and then they can practice.
Experience, Training & Credentials
Aside from education, an orthodontist with extensive experience, training, and other credentials is also important. It's not required to have these things in order to become an orthodontist, but it certainly helps. Don't be afraid to look at the orthodontist's website or ask them personally what their experience level is and what certifications they have (if any).
A board-certified orthodontist is one that has proven their accomplishments and passed an interview by expert examiners, demonstrating their skill and knowledge in the field. There are also additional certifications they could receive, such as a TMJ certification.
Our orthodontist, Dr. Nelson, is board-certified and TMJ Certified, as well as being recognized as the top-rated orthodontist in the state. He has also been nominated and won Best Orthodontist for more than ten years by 5280 Magazine. If you're looking for a highly-recommended and knowledgeable orthodontist, Dr. Nelson at Trinity Orthodontics is it.
Treatment Times & Results
When picking an orthodontist, an important factor to consider is if that office can provide you with the results you're looking for in a reasonable amount of time.
Here are Trinity Orthodontics, we are proud to provide what we refer to as our FAST system, which stands for "Fewer Appointments, Straight Teeth." This system is mainly used for Invisalign due to its digital process, and it does not require appointments for adjustments, unlike braces. We have found that we are getting done with our Invisalign cases about twice as fast compared to our braces treatments, with approximately 90 percent less time spent in our office! In total, you will only need to visit our office about five or six times throughout your Invisalign treatment. However, you can still expect a beautiful smile by the end of the process.
We are also using some of these methods and techniques with our braces systems. Although, appointments will still be required in order to make adjustments.
We have begun offering this system as a way to speed up the process of teeth straightening and ensure our patients miss less time at work or school. If you are interested in finding out if Invisalign is right for you, contact our office to request a complimentary consultation.
Patient Reviews
While certifications, education, and years of experience are great, knowing that an office has good reviews from other patients just like you is key. Check the office's website as well as Google reviews to see what others are saying about them. You can learn a lot about an orthodontic practice based on what their patients say about them.
We think when you look up Trinity Orthodontics, you will be happy to find that our office has over 500 5-star reviews for our outstanding customer service!
Why Choose Us
If you are living in the Colorado area, we believe you will find Trinity Orthodontics to meet and exceed all of the above qualifications for an excellent, knowledgeable, and professional orthodontics office in Colorado. Dr. Nelson is well-educated and board-certified, proving that he has the skills and experience to provide all of our patients with speedy care and fabulous results. Check out our reviews if you're unsure! Plus, we offer various financing options so you can stay within your budget. Contact us today at (303) 427-5000 for a complimentary consultation. We have convenient locations in Broomfield, Brighton, Arvada, and Thornton, CO.